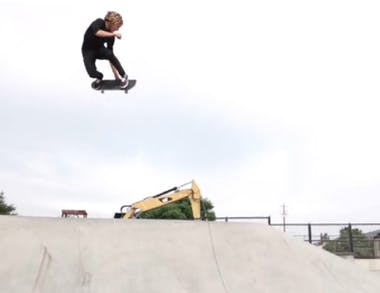 Oh my Alec Majerus! To be fair, we could substitute Alec Majerus' name for either of the other two stars of this brand new Flip Skateboards production (that's Louie Lopez and Curren Caples) and the "oh my" would still be more than apt.
Released in conjunction with Transworld, this 11 minute beast of a clip is a real 'sit down with a cuppa' job; though in the heat we're having at the moment we reckon an ice lolly may well be more apt! Regardless of your accompanying refreshment, be warned that you're probably gonna be spitting half of it over the floor as you witness the all-terrain annihilation the three wunderkind drop before your eyes.
Louie smashes everything in his path, be it ditches rails or blocks. Curren is no longer the little surfer kid and get oh so serious on the gnarliest of transition and some bloody massive rails to boot. That just leaves Flip's newest pro, Rochester born Alec, to close the vid with some of the most progressive handrail and stair skating we've seen in a very long time. There's nowt more to say really!
Sign Up...
For Priority Access to Releases, Deals & Offers
Your bag is currently empty.