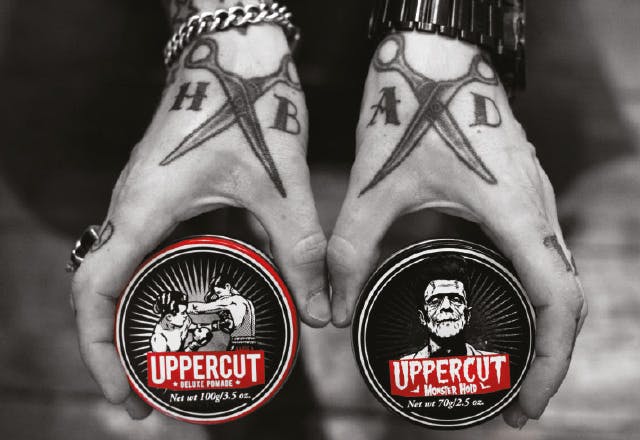 The art of barbering is a timeless trade. It's no surprise that, in recent years, men seem to be ditching modern day hair salons and reverting back to the traditional barber's chair.  And rightly so; if there's anyone who knows how to perfect a cut and shave, it's a barber. And with all good barbering, comes good hair product. This is where Australian-born brand Uppercut Deluxe comes in to play.
The brand was built by the creative brains, passion and hard work of Luke Newman and Steve Purcell, childhood friends with a love for barbering, surf and skate who noticed a lack of products that support the art of barbering. Inspired by the timeless style of the 1950's barbershop and made with only the finest ingredients, Uppercut Deluxe delivers a core range of high quality grooming products for men without all the fancy embellishments of salon brands.
Uppercut Deluxe is not just about a great range of products, but also the faces behind the brand. These characters epitomise the brand's identity just as much, upholding it's values and ideals. These people are called Uppercut Ambassadors.
Bristol based barber Brad Cowan, owner of Harry Blades & Angry Daves, spends a lot of his time travelling the globe as an Uppercut Ambassador, cutting men's hair at everything from tradeshows to skate events in order to help others discover Uppercut Deluxe.
We headed down to Harry Blades, taking Route One Skate Team Manager and Uppercut product enthusiast Josh "Manhead" Young along for a quick grooming session, and then caught up with Brad about how he got in to the trade, his relationship with the brand and why his barber's chair never has a chance to get cold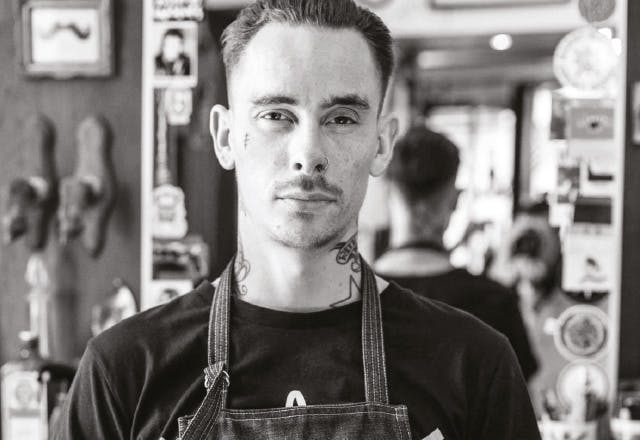 What made you decide to become a barber? My love of classic barbering came from my grandfather being one of my first guinea pigs when I started cutting hair. When he wasn't in overalls covered in grime, he was one of the most immaculately turned out gents that I have ever met. It was cutting his hair and the way that he valued presenting himself correctly that had the biggest effect on me. 
What was behind your decision to open your own shop? It was just a natural progression from working for someone else to doing it myself. I had some very strong ideas about where I wanted to take my career and realised that the only way to do that was by having my own shop. The opportunity presented itself when I was talking over my ideas with my business partner Dave late one night at a party. We woke up the next day, slightly hungover, but full of ideas from the night before and it went from there.
How did you first get involved with Uppercut Deluxe? It kind of fell into place. Paul Hewitt (Uppercut Ambassador and owner of AONO Barbershop) and I had been doing the pop-up shops for a while and wanted to start working with a brand that tied into the events that we were doing and the background that we came from. Initially we saw the brand and thought it looked amazing. As soon as we got our hands on the first batch we were totally blown away by the product and knew that we had found the one. They were about to launch in the UK and we came on board to represent the brand.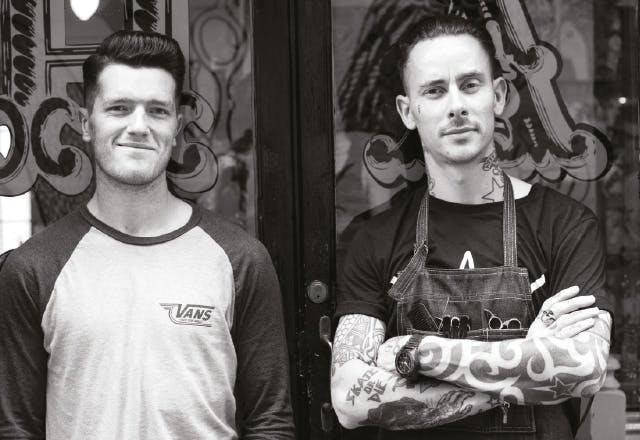 What do you like about the brand? The range is very simple. There are not a 100 different products. The four main products are perfect for what they have been designed to do. They perform brilliantly, and they last too. On top of that the branding is spot on; really simple and impossible to mistake for something else. Because the guys that developed it come from a skate and surfing background, we had that connection straight away and totally understood what they wanted to achieve. On top of how good it is, I love that it has been designed and crafted by someone that I can relate to and understands where I am coming from and that makes me want to support that. 
What does it mean to be an Uppercut Ambassador? Being an Uppercut Ambassador basically means that we are on the front line.  As Uppercut Ambassadors we get to present the products to peers, clients, and potential accounts. We provide the technical information that people need, but on the level. Not in the usual condescending manner that has been associated with the hair industry for so long. I would like to think that has been part of the success for the brand, not only has it got the most amazing back story in terms of where it came from but that it's as much a lifestyle product as much as a hair product. It has integrity and that is reinforced by the people involved like Eric Dressen, Danny Wainwright and (Route One Skate Team Manager) Josh "Manhead" Young, as well as the work that Paul and I have done. The fact that we have been received so warmly, especially as we are working with a product, and come from an industry not conventionally associated with skateboarding has blown us away. People have been relating to it across the board. That was our jobs as ambassadors, to make sure that people understood the ethos of the product not just the technical aspects.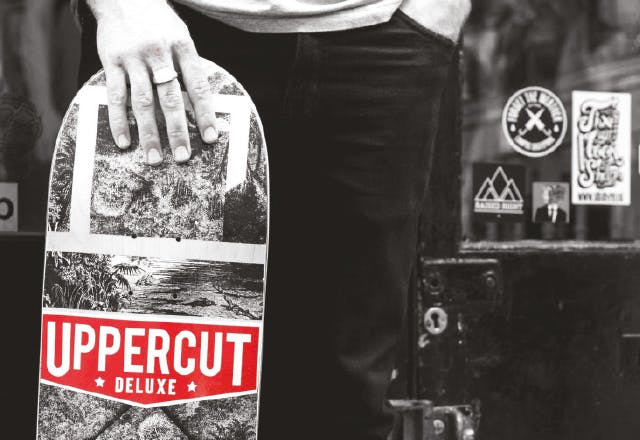 Why do you think barbering and skateboarding go hand in hand? Most people would be forgiven for not seeing a connection. You have to look a little bit deeper for the parallels. Firstly the essence of skateboarding is style. Attention to detail. It's not landing a trick, it's how you land it. Same with cutting hair, anyone can go at it with a pair of clippers and some scissors, but to master that takes time and the same attention to detail. The style and the finer points are what separate the craftsman from the labourer.
Also the flow. How you get from A to B. When I approach a haircut I am constantly looking for the natural lines and contours on the head and then work around that, in the same way that you would cruise down the street or attack a skatepark. On a slightly different note, everywhere you go now you can see the influence that skateboarding has on fashion. Hair is most definitely a part of that and so many skateboarders, old and young really do give a sh*t about what they look like, and so they should. It's not vanity, it's self-respect which breeds confidence. Confidence on a skateboard is everything. Everything is linked. On a slightly more personal note too, the atmosphere in a barbershop is almost identical to a skate session going off. It is 100% participation. With every client I try and push myself to make it better, and when you look around the shop to see what other people are doing it totally stokes me out and pushes me even harder. 
 What's day to day life for you? Looking after my son, working in the shop, and skateboarding when I can. I am super lucky to work in the shop with one of my best friends and travel with my other best friend. Every morning I am excited to get stuck into another day. It usually involves cutting a lot of hair, but that is when I am happiest.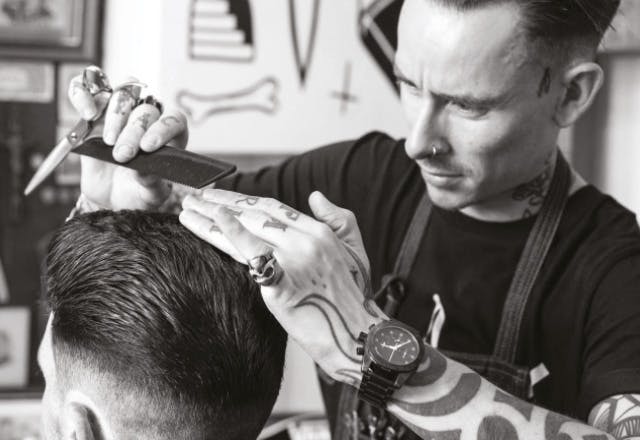 What's the most rewarding part of your job? The most rewarding part is that, for the most part it doesn't feel like a job. Seeing people leave the shop stoked on what you have done for them is a rad feeling.
What are your grooming essentials? I can't live without the Deluxe Pomade. Every day I dry it into my hair to set the shape and then finish it with a little bit of the Monster Hold to make sure it stays where it needs to all day.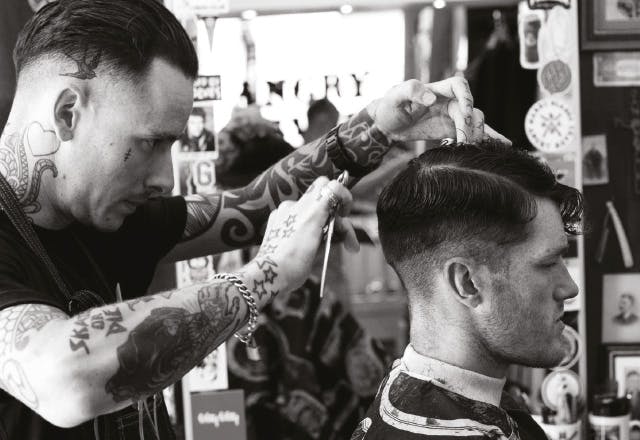 What's the next step for your relationship with Uppercut? Hard to say. We have had a lot of fun so far. I'm definitely looking forward to working with the development of the brand. Also to be able to travel, meet more barbers and carry on learning and developing my craft. 
Interview: Colette Earley
Photos : Ochi
Shop Uppercut Deluxe at Route One.