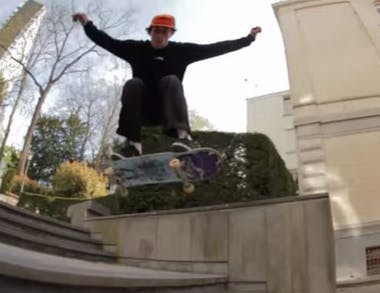 What the heck did we just watch? Honestly we can't really say for sure. What started off as a relatively standard formatted edit all of a sudden took a most surreal turn and we've closed the tab unsure of quite a lot. In fact the only thing we can be certain of is Jarne Verbruggen is pro and that's because he seriously rips!
Opening up with a touching tribute to the late Preston 'P-Stone' Maigetter before moving on to quickly illustrate why Element Skateboards have chosen to bump their Flemmish connection up into the pro ranks, this brand new part carries on perfectly from where last year's amazing 'Never Skatebored' left off.
Jarne is just one of those dudes that has "it," no matter how intangible "it" may be to categorize. Be it a combination of his technical prowess, the creative eye for tricks he possesses or simply the fact he genuinely seems to be having such a good time, whatever the combination of the aforementioned ingredients, the young man from Belgium makes skateboarding radical and for that reason we're big fans. Once you watch this we're pretty sure you will be too..
Sign Up...
For Priority Access to Releases, Deals & Offers
Your cart is currently empty.