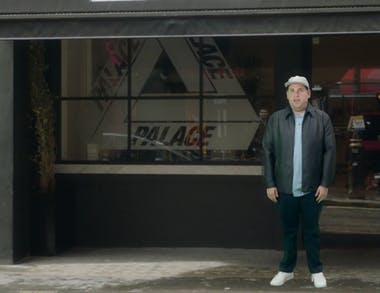 The very nature of commercial advertising is to nudge you (sometimes subtly, sometimes grabbing you by the virtual throat) in the direction of a product to buy or at least covet it. As much as we write about the very best skateboarding clips or interviews purely from a fan's perspective, we have to accept that the companies releasing this content do so with the hope you might spend your hard earned money on the wares they flaunt.
By the same token we too sell stuff and so there is a vested interest for us to promote the companies that we stock (to be fair though, we carry most brands so there isn't much off the table!). You will notice however that there are a few occasions most weeks when there is nothing to be gained from promoting a clip other than the feeling of sharing something rad with you, our friends.
This is one of those occasions. Yeah, we stock Palace but this collab is gonna be strictly Palace retail space only. Does that stop it from being the funniest thing we've seen all week? Hell no! Get watching, this is amazing….
Palace Reebok Classics from PALACE on Vimeo.
Sign Up...
For Priority Access to Releases, Deals & Offers
Your cart is currently empty.