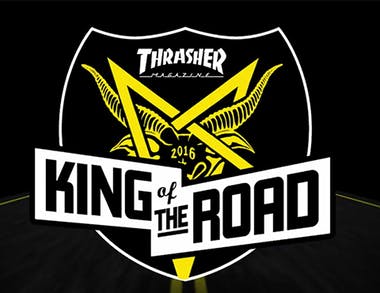 By now everybody should be well aware of Thrasher Magazine's infamous team based cross country rip ride 'King of the Road,' so we won't bore you explaining that which you already know. What we will say however is we're super stoked to see its Viceland hosted return and we can guarantee we're gonna remain hooked to the trials and tribulations of the Enjoi, Creature and Deathwish crews over the coming weeks.
Truth be told though, we're were a little surprised to see the first episode randomly leaked on line a couple of weeks back, given the original air date was scheduled for the 8th of June, so we're quite pleased that the official release went ahead as planned and the Thrasher Webisodes have now started in earnest.
Clocking in at a smidge under nine minutes, they compress the traditional 45 minute full length format into easily digestible highlight reels, showing you the very best of the skateboarding on offer without having to sit through all the time filling shenanigans the competition always elicits. Unfortunately the full instalments are unavailable to watch in this country at the moment due to Viceland's licensing laws* so you'll just have to make do with these. Not that it should be a problem; episode one contains more than enough skateboarding shreddery to keep just about anyone stoked!
*Might be worth having a look to see if they can be found online, if you know what we mean.
 Nudge, nudge, wink, wink, say no more...
Sign Up...
For Priority Access to Releases, Deals & Offers
Your cart is currently empty.