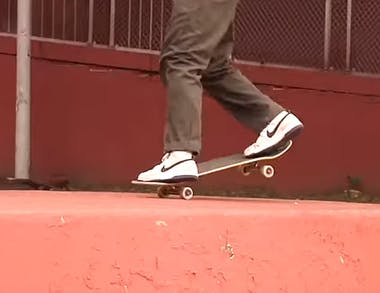 Nike SB: Cyrus Bennett - Elite Squad
The second the late Adam Yauch's bassline kicks in from that classic slice of mid nineties hardcore, you know Cyrus Bennett means business in this brand new part for Nike SB. Combining rugged East Coast footage with the rawer side of the Beastie Boys' sound is a match made in heaven, and this near four minute slab of full speed, brutalist yet beautiful skateboarding never disappoints.
Wallies get wallie'd and bump-to-bars to get ollie'd; of course that side of NYC skateboarding is represented - if you're into that kind of thing, then it's safe to say you won't be disappointed. That said, these certainly aren't the only bows in Cyrus' quiver, and when taking the routes less traveled, the former Industrial Design student really shines.
The opening two clips at Gino's infamous Roslyn Banks should be testament enough that this young man isn't relying upon the city backdrop to carry through where his tricks do not. Yes, it certainly helps that that most brutally photogenic of cities provides such a breathtaking skyline to accompany his on-board antics, but his ability to make the most of his skateboarding skills would make Cyrus look good in the blandest of LA school yards.
Click play now...then go listen to more classic East Coast hardcore; you know the new Gucci Mane album ain't making anybody skate this hard and fast!
Sign Up...
For Priority Access to Releases, Deals & Offers
Your cart is currently empty.