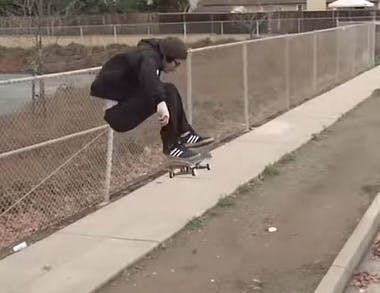 Panda Patrol: Episode One
We can't profess to be too surprised about the existence of this brand new series from the ever amazing enjoi Skateboards. After all, Nestor Judkins was more than happy to spill the beans about the brand's plans when we caught up with him earlier in the year; we knew something was in the works but (and this is a very big "but") we couldn't possibly have imagined just how bloomin' brilliantly unique its execution was gonna be!
Kicking off episode one in style, Louie and the guys set the ball rolling with an insane montage (featuring archive clips alongside brand new tricks from pretty much the entire crew) before Norwegian connection Didrik 'Deedz' Glasso takes the reigns with a boardslide-tastic full part that couldn't be more hype inducing if it offered you a winning lottery ticket at the end!
enjoi has always been about having fun and breaking the mold; on the basis of this, the first episode of the Thrasher released series continues the brand's ethos and then some. Click play then start counting down the days until the next one; if skateboarding means friends and fun to you then this is as good as gets!
Sign Up...
For Priority Access to Releases, Deals & Offers
Your cart is currently empty.