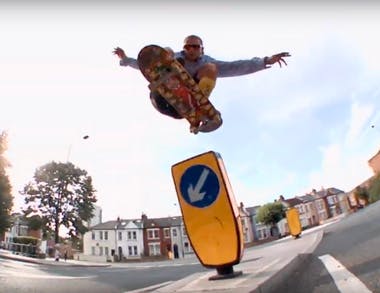 Presenting /// Freedom 19
Whether you want to refer to him by his birth name Thomas Eblen Hague, the Palace bequeathed 'Blondey McCoy' or current message board favourite 'Blodney,' there's no denying the lad is a polarising character. Loved and derided in equal measure, his Instagram game is literally second to none in the national scene and it's hard to find any mainstream dalliances with UK skateboarding that don't reference his name. When you're represented by the Kate Moss Agency doors tend to open...
Because of this, regardless of his ability on his board, Blondey is the absolute perfect brand advocate and it's no surprise that adidas have decided to honour him with his own shoe. It's also not that surprising that the shoe in question is pretty "out there" - we can't remember the last time anyone was wearing transparent plastic footwear, outside our little sister's jelly sandals on holiday that is.
What is surprising however is the promotional part for his signature shoe and the surprise is two fold. Firstly there's the soundtrack; we know adidas have money but Kanye??? The rights for that must have been next level! And then there's the actual skateboarding; holy crap does Blondey go in hard! No joke, this is 100% Blondey's best footage to date. No longer is he along for the ride based on cool guy points. No, in this he seriously delivers and legitimately justifies his sponsored position.
For far too long it's been easy to mock successful people, especially when viewed from a meritocratic perspective, but we'll gladly state that Blondey has definitely proved his worth this time. The shoes however? Style is subjective, we're reserving judgement on those!
Sign Up...
For Priority Access to Releases, Deals & Offers
Your bag is currently empty.