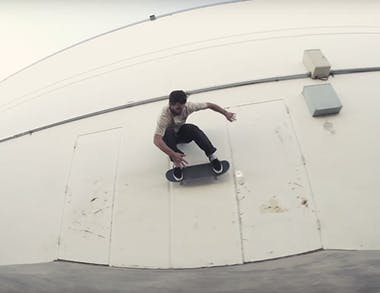 Spitfire Wheels: Avenues And Alleyways
Those of you expecting a thumping '...and out come the wolves' era Rancid soundtrack won't have to maintain your disappointment for long with this one. Though the title and DLX's SF roots would allow forgiveness for assuming that might be the case, the combination of brand new Harry Lintell footage, Dawn Penn getting her most famous of grooves on and one of the gnarliest ollies we've ever seen will soon see a smile back on your face.
Also featuring the talents of Austin Kanfoush, Matt Gotwig, James Capps, Alex Conn and Sean Greene, it's the showcasing of the immeasurable talents of Ashford's finest export Harry that have really excited us here. This side of the pond we've known for years just how amazing young Mr Lintell is on a skateboard, thankfully now he's getting the opportunity to show the rest of the world and the rest of the world is liking what it sees!
However, as much as home country hero bias has ruled our critique of this piece thus far, we have to hold our hands up and say that no matter how rad Harry's contribution to the clip may be, the only thing you're gonna remember from this is the ollie at the end. And what an ollie it is too! Watch it, rewind (well, skip back a few seconds), watch it again and just imagine how gnarly that was to do - it's pure insanity, no two ways about it! 
Sign Up...
For Priority Access to Releases, Deals & Offers
Your bag is currently empty.