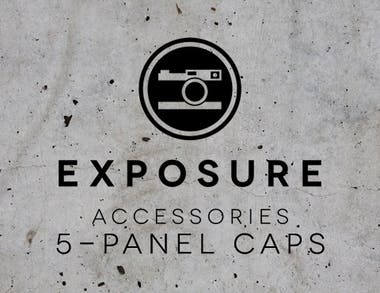 Taking Over - 5 Panel Caps
5 Panel caps are a fast becoming a staple accessory for the fashion conscious individual as well as extending their roots further into the urban world of sport through close connections with heritage skate brands.
Defined as consisting of a strap fasten, Velcro or buckle back closure, 5 Panel caps are true to their name consisting of only five larger panels providing an almost 'boxed' look to the cap in contrast to the ever popular 'snap back cap' which generally consists of six constructed stitched panels.
Here we take a closer look at our top five 5 Panel caps from a variety of renowned cap brands such as HUF, Brixton, 10Deep & The Hundreds highlighting a brief history behind each brand and also showcasing both the quality and key features of each cap displayed.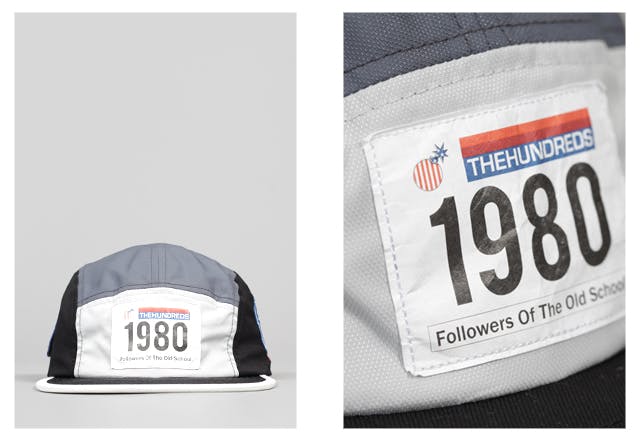 The Hundreds Sprint 5 Panel Cap – Black.
The brain child of Bobby Kim and Ben Shenassafar, The Hundreds came to life in 2003 as a men's apparel company and online magazine. Taking inspiration from Californian culture and looking closely at influences from the likes of the hip-hop, skateboarding and surfing scene The Hundreds are renowned for their modern twists to classic shapes, patterns and details.
As seen above the Sprint 5 Panel Cap lives up to these influences and executions offering old-skool twists to a modern day cap featuring various retro style badges on a vintage style Nylon upper.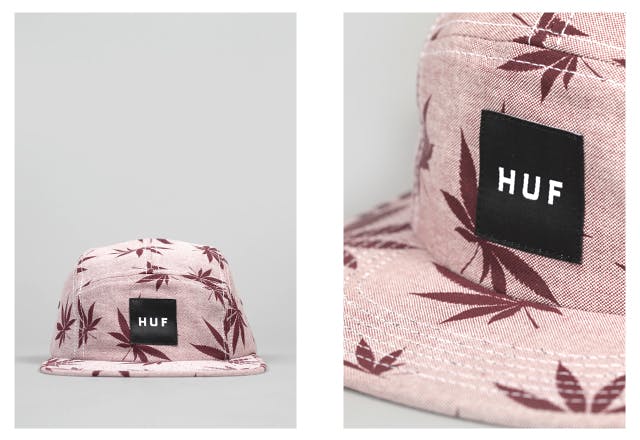 HUF Plantlife Volley 5 Panel Cap –Red.
HUF-founder Keith Hufnagel grew up skateboarding on the gritty streets of New York City in the late-80s. Inspired by the punk rock, hip-hop and outcast counterculture of this era HUF looks to classic American craftsmanship, timeless vintage design, and an appreciation for fine-and-functional modern detail to produce quality goods that incorporate the past and present to create the future.
Integrating materials and construction inspired by those specific garments that have endured the test of time, HUF have established themselves as world renowned player in cap culture offering a wide variety of shapes, fits and graphics.
Taking inspiration from the ever growing 'Cannabis Craze' the Plantife 5 Panel cap seen above is available in a subtle heather red and burgundy leaf providing you the customer with a stand out piece of head wear that is sure to get you noticed. Encapsulating all of the classic features of a 5 Panel cap this silhouette offers the classic HUF 5 Panel shape with embroidered woven tags and clip closure as standard.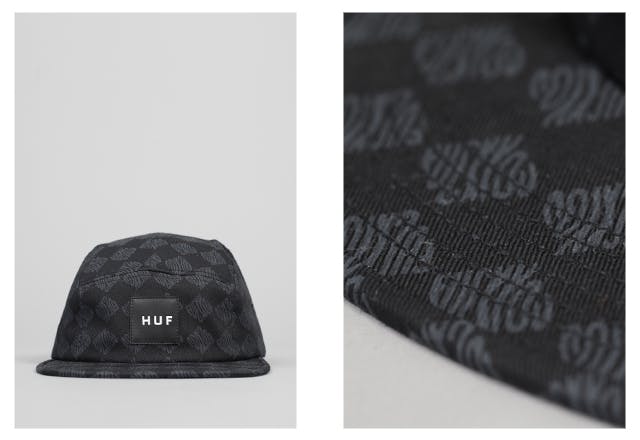 HUF Luxe Volley 5 Panel Cap – Black.
Taking inspiration from classic all over patterns found in the late 80's the Luxe 5 Panel cap incorporates a tonal all over graphic that can be found on both the top and underside of the peak whilst also visible on the crown of the cap. Available in a classic black colour way encapsulating the classic HUF shape this cap offers you the consumer a sleek and easy to wear cap and with all additional details such as woven tags and clip closures as standard, this cap will easily become your 'go-to' accessory.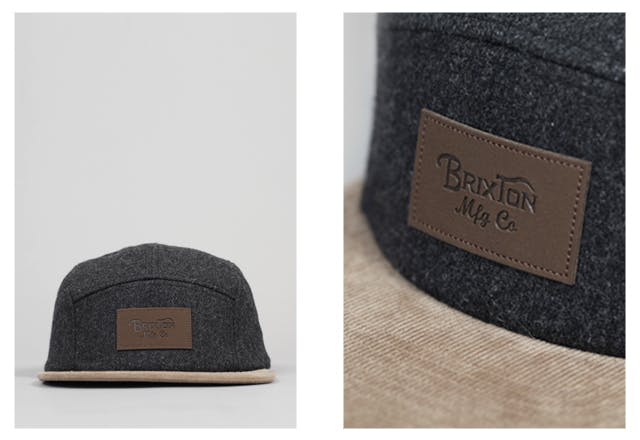 Brixton Cavern 5 Panel Cap – Charcoal/Tin.
Created in 2004 and inspired by music, culture, and the people surrounding, Brixton is the collaboration of three friends who wanted to convey their lifestyle through unique and well-crafted products.
The timeless and clean design of the Brixton cap collection is hard to duplicate and can been seen through the clean lines and quality materials used on the above Cavern 5 Panel Cap which provides a premium look and feel to an extremely well-crafted cap.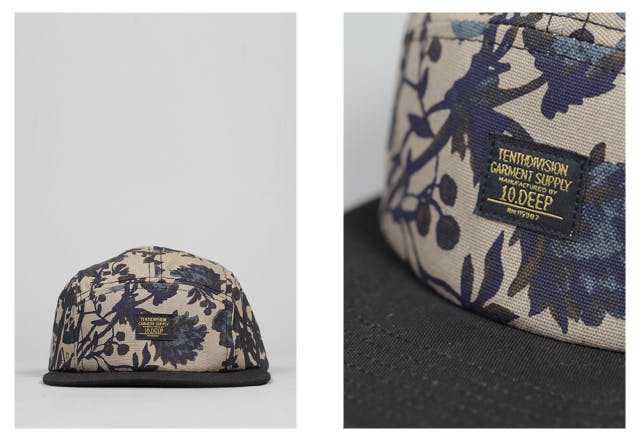 10Deep Ironsides Nav 5 Panel Cap – Nightfall.
Driven by the same personal strength and energy that bore hip hop, skate, punk and graffiti subcultures, 10Deep, a cornerstone brand in the men's boutique and progressive street wear community offers consumers dynamic collections and inspirational pieces by the way of classically inspired details and artworks.
The Ironside Nav 5 Panel cap seen here is a perfect example of the above taking classically inspired imagery and incorporating a modern and dynamic twist to the artwork by the way of bold side facing logos and branded forward facing patches.
All featured caps are available online and in stores now.
Sign Up...
For Priority Access to Releases, Deals & Offers
Your cart is currently empty.