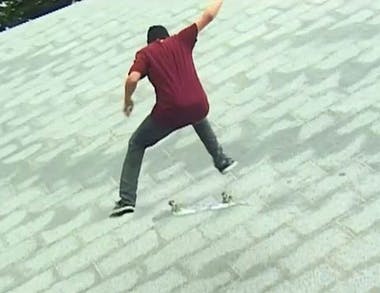 Remember Tuukka Korhonen? No? He was on Blueprint for a hot minute before it died a miserable death. Ring any bells? Famously slated on the Sidewalk Forum where it was noted that "if he went any slower he'd be going fakie." That not sparking any recollections? 
These two memory joggers really do the lad a massive disservice to be fair - whilst he's certainly no Busenitz and those latter years of Blueprint are best erased from our collective conciousness, he certainly knows his way around a wrong way revert and can knock together a sexy combo or two.
This brand new part, shared with long time friend Pirkka Pollari, picks up where his career left off before a sickening slam at the Helsinki death race put him out for a number of years. His style is still there and so are the front nose slides; if you really still can't remember him we recommend you at least do the decent thing and get acquainted now - there's every chance you'll enjoy what he has to offer.
Tuukka&PirkkaSLP100V from perus juttu on Vimeo.
Sign Up...
For Priority Access to Releases, Deals & Offers
Your cart is currently empty.