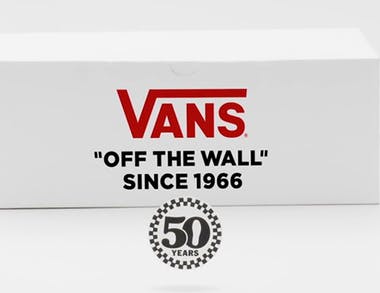 Vans 50th Anniversary Of 'Off The Wall'
Unless you've been living in subterranean inhabitants, you should be fully aware Vans have reached the glorious 50 year mark and will be celebrating it's 5 decades of 'Off the wall' in the usual Vans traditions across 10 cities.
"On March 16, 2016, Vans brings together 50 years of "Off The Wall" heritage in action sports, art, music and street culture for a worldwide celebration of creative expression at the House of Vans. Vans' legacy will be brought to life in ten cities across the globe to celebrate its 50thanniversary alongside the extended Vans family that have made the brand what it is today. From New York to London to Hong Kong, Vans is thrilled to welcome a mix of eclectic performers including Nas, Dinosaur Jr., Wu-Tang Clan, The Kills, Erykah Badu, Jamie xx, Dizzee Rascal, Yeasayer, Shlohmo and more, within an immersive brand environment specially created for Vans' anniversary year. Additionally, guests at every location will be welcomed to participate in a range of workshops for a hands-on experience that is truly Vans.
The highly anticipated House of Vans experience showcases Vans' unique culture through multifaceted activations including D.I.Y workshops, shoe personalization, a retrospective look at the brand's history, curated musical performances, and an interactive, 3-D display of Vans' 2016 brand campaign, which is set to releaseMarch 16. Upon entering the House of Vans, patrons will take a walk through Vans history for an intimate look at memorabilia installations highlighting 50 years of iconic moments. To honor and tell the story of Vans' design progression, Vans has partnered with esteemed collectors @Skateboardmuseum Berlin and @PillowHeat from The Other Side of the Pillow to present a gallery of vintage Vans products. Attending guests will revel in the sounds of a genre-diverse selection of musical talent including punk rock, hip-hop, indie and electronic, all which represent Vans' unique music aesthetic."
Sign Up...
For Priority Access to Releases, Deals & Offers
Your cart is currently empty.